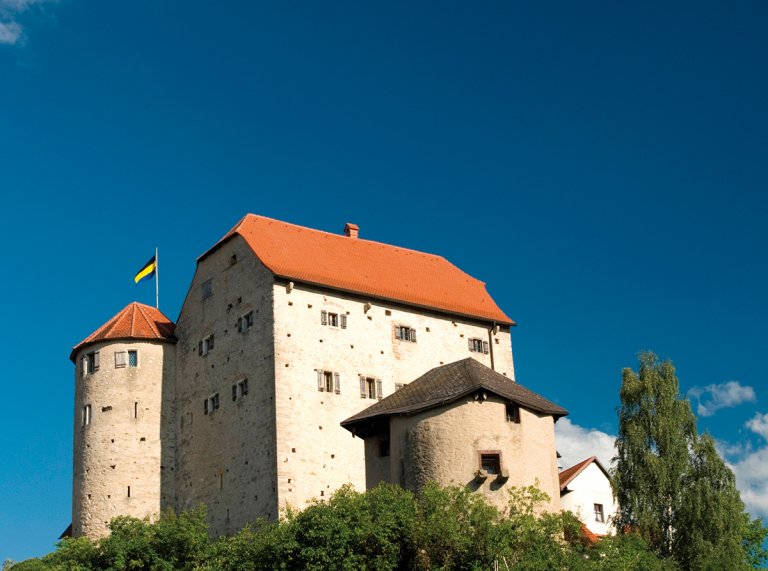 Bildnachweis: Kuratorium Burg Wolfsegg e.V.
Wolfsegg Castle, a weir system in the Gothic style, is almost intact in its build status. The castle was built in the first half of the 14th century. At the beginning of the 15th century, the castle building was expanded. With the so-called "solid ouse", the mighty palace, the fortress shows the characteristic appearance of a ministerial castle of the late Middle Ages.

Wolfsegg Castle hosts the permanent exhibition "life in an Upper Palatinate castle" which ist unique in the region. There are shown, among others, archaeological finds, objects of everyday use and various equipment of military technique. The so-called knight's hall is adorned by tendril paintings from the 15th century. A separate room is dedicated to the Wolfsegger castle cave. In addition, there are changing exhibitions and events during the "Wolfsegger castle summer".

Since 2007, the castle has been connected with other castles and ruins in the neighborhood through trails as part of the Regensburg Burgensteige. 
How to get there with the RVV
With bus line 14 to the stop "Wolfsegg, Raiffeisenbank", from there about 250 meters walk to the castle
The bus runs Monday - Friday every hour, every two hours on Saturdays 
Adress and opening times
Burg Wolfsegg
Burggasse 7
93195 Wolfsegg
Opening times: May until September at Saturdays, Sundays and holidays 10:00 - 16:00 o`clock
Guided tours: Guided tours for groups are possible by prior arrangement also outside the opening times