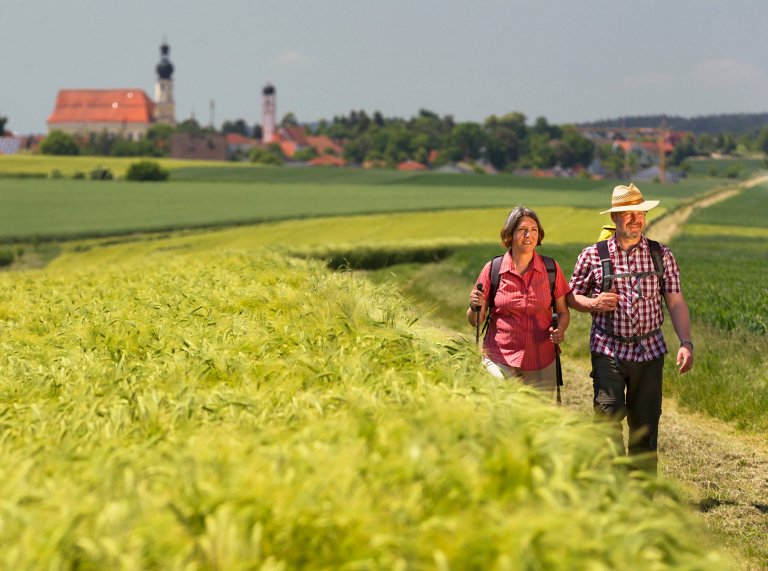 Bildnachweis: Verein Europäischer Pilgerweg - VIA NOVA
In summer 2004, the European pilgrimage route "Via Nova" has been newly created. The route follows the old pilgrimage routes and connects St. Wolfgang in Austria, the Czech Příbram and various places in Eastern Bavaria. On the Bavarian side, the pilgrimage route was continued in a 162 km stretch from Straubing via the nodal point Schierling in direction to Kelheim.
A section takes you along the valley of the Great Laaber. For example, hiker move to Schierling above Atting, Rain, Schönach, Mötzing, Sünching, Aufhausen and Pfakofen and further in the district of Kelheim.
A folding walking map and hiking proposals for the various sections of the pilgrimage route Via Nova are available for free at the  county office Regensburg and the communities involved.
How to get there with the RVV
To Schönach/Mötzing:

Mo - Sa with bus line 23

To Aufhausen:

Mo - Fr with bus line 21; Saturdays with Buslinie 21/24

To Pfakofen:

Mo - Fr with bus line 24; Saturdays with Buslinie 21/24 

Return from Schierling:

Mo - Sa with bus line 25 to Eggmühl; there change to rail line 930