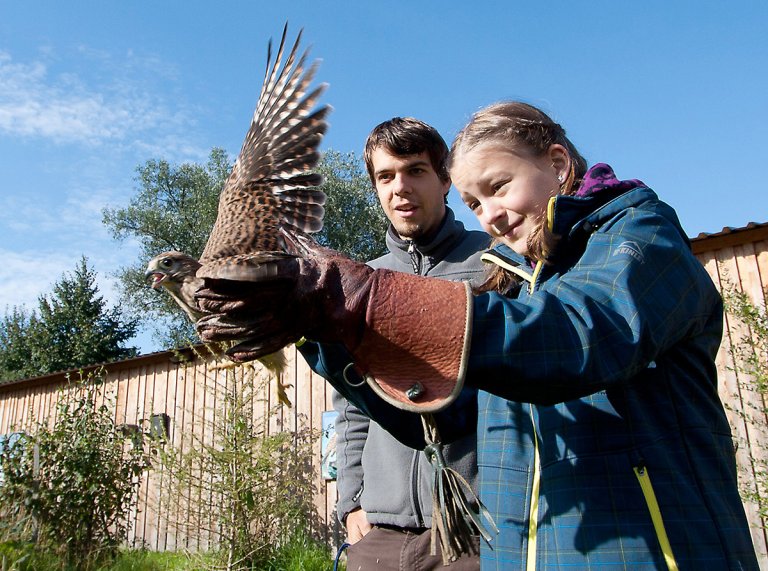 Bildnachweis: Landesbund für Vogelschutz in Bayern (LBV) e. V.
In 2008, the LBV bird station was opened in Regenstauf. It grew out of a collaboration of the market Regenstauf and the district Regensburg with the nature conservation organization LBV. 

As focal point for feathered "patients" from near and far, the staff of the nursing care station takes care of more than 500 injured birds found injured anually. If possible, the animals are released into the wild after recovering again. The facility is recognized by the Free State of Bavaria as environmental education station.

Besides school classes, interested groups can book a tour within the station on request and learn a lot of exciting and interesting facts about risk and protection of native birds.
Visitors experience impressively owl, peregrine falcon, white stork and other "patients" of the station.
To get there with the RVV
With line 41 to the stop Regenstauf Post, from there about 590 meters walk to the bird and environmental station
The bus runs Monday - Saturday daytime every 30 minutes, every hour in the evening; on Sundays and public holidays individual trips
Further connections with linie 42 and 43
Adress and opening times
​LBV-Bezirksgeschäftsstelle Oberpfalz
Masurenweg 19
93128 Regenstauf
Opening times: Monday till Thursday 9:00 - 12:30 o'clock and 14:00 - 16:00 o´clock; Fr 9 - 13 o'clock
Guided tours: Guided tours for groups through the station with lots of exciting facts about native birds such as owls, peregrine falcons, white storks, etc. are available on request.