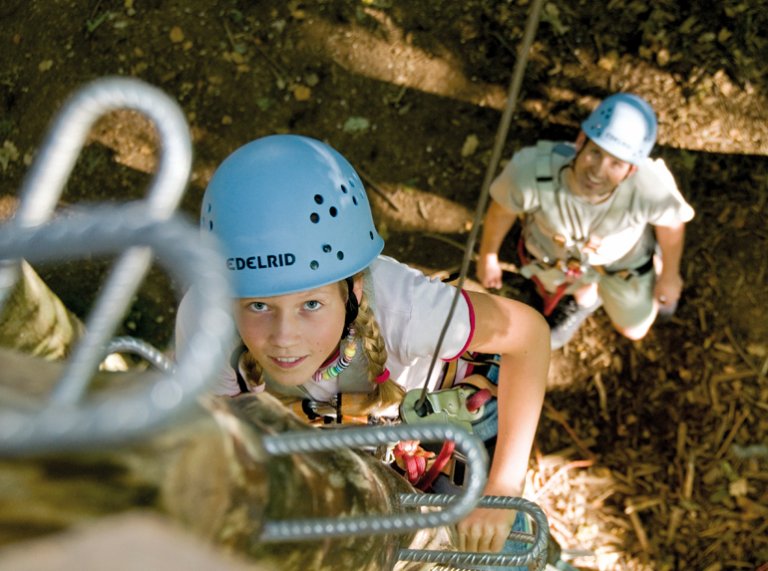 Fun, adventure and a nature experience for the whole family await you in the high ropes course near the forest adventure center. Surrounded by hiking, biking and nature trails, a varied adventure landscape invites to climbing, swinging and balancing at dizzying heights in a beautiful deciduous forest.
Exciting rope exercises, nets, wooden bridges, flying foxes and team exercises - anchored between mighty beech trees in 3 to 12 m height - inspire young and old here. Tired hikers will also find the opportunity to take a little snack in in the accompanying forest takeout or can enjoy the view of the treetops in the hammock area.
How to get there with the RVV
With bus line 27 directly to Walderlebniszentrum or with line 26 t "Abzweigung Riegling/Kleinprüfening", from there about 10 minutes walk to Walderlebniszentrum
Mo - Fr there is a direct bus starting at Regensburg Hbf
At Saturdays with rail line 993/930 from Regensburg Hbf till "Sinzing", then changing to bus line 26/27 in direction to Walderlebniszentrum
Adress and opening times
Kletterwald Regensburg 
beim Walderlebniszentrum Regensburg
Rieglinger Höhe
93161 Sinzing
Opening times: late March to early Novembe, for detailed opening times please look at the website of the climbing park (see "Further Information").