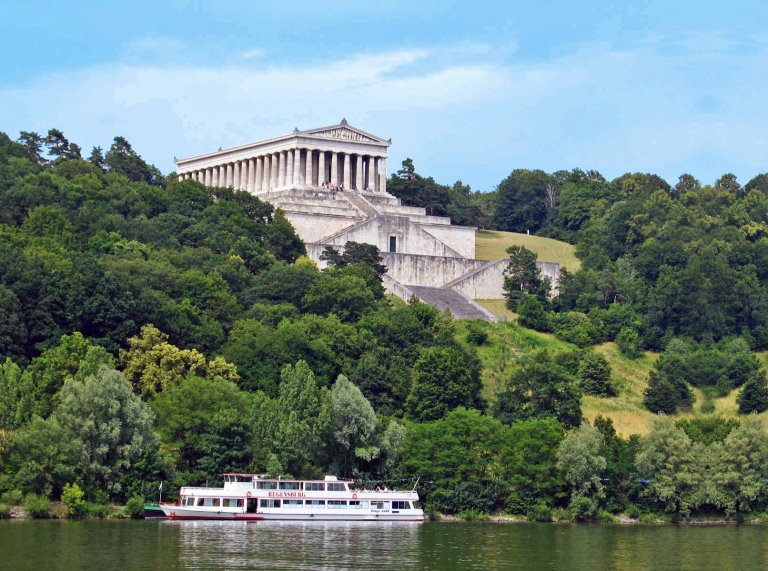 Bildnachweis: Bayerische Verwaltung der staatlichen Schlösser, Gärten und Seen
The Walhalla is an outstanding example of classical architecture of the 19th century and resembles externally outside the Greek Parthenon in Athens. Situated on a hill in Donaustauf it is high above the Danube Valley and therefore already seen from afar. Currently, 65 plaques and 130 marble busts honor important personalities.
Inspired by the idea of King Ludwig I, to build a tempel in honor of the "glorious excellent Germans", the Walhalla was built 1830 - 1842 according to the plans of the former court architect Leo von Klenze. The opening ceremony took place on 18 October 1842.
In addition, a visit to the Walhalla can be combined wonderfully with a boat trip on the Danube, for example by bus from Regensburg to Walhalla and back with the ship. For detailed information on the passenger navigation, please visit www.donauschiffahrt.de and www.schifffahrtklinger.de.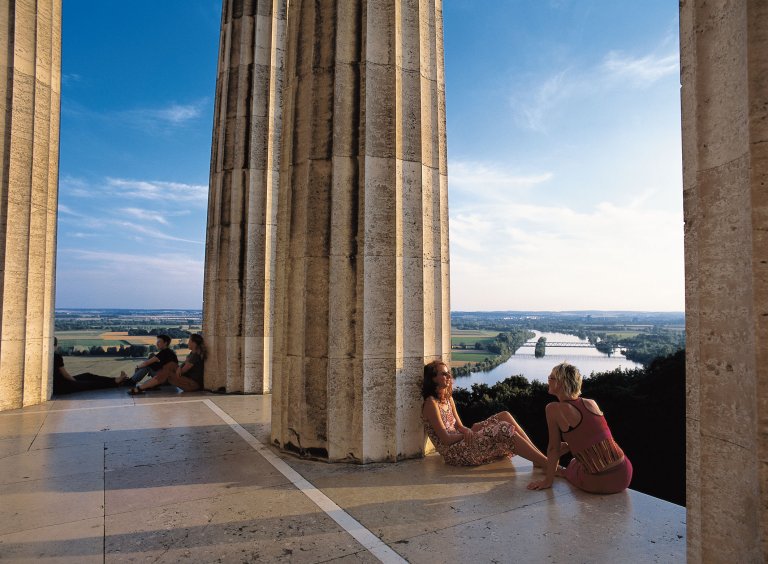 Bildnachweis: Bayerische Verwaltung der staatlichen Schlösser, Gärten und Seen
Getting there with the RVV
With bus number 5 to the stop "Donaustauf, Walhallastraße", from there about 1050 m walk.
or until the stop "Donaustauf, Reifldinger Str.", from there about 800 meters walk to the Walhalla.
From the stops mentioned above, you reach the Walhalla via Reifldinger Str., a forest way or over the southern stairway (358 steps!)
The bus runs Monday - Saturday daytime every 20 minutes and every hour on Sundays and holidays.
 A double click on the map section opens a bigger view of the footpaths of the bus stops to Walhalla: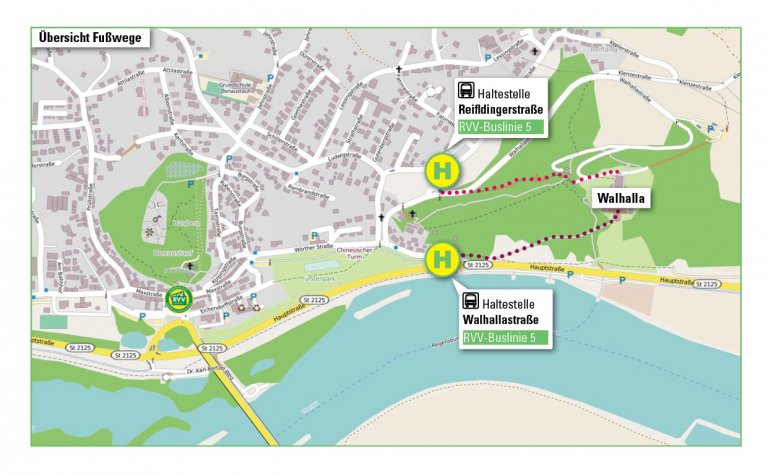 Adress and opening times
Walhalla
Walhallastraße 48
93093 Donaustauf
Opening times: April to September 9: 00 -17.45 clock, October 9:00 - 16:45 clock, November to March 10.00 - 11.45 clock and 13:00 - 15:45 clock; closed on 24th, 25th and 31st December and on Shrove Tuesday.