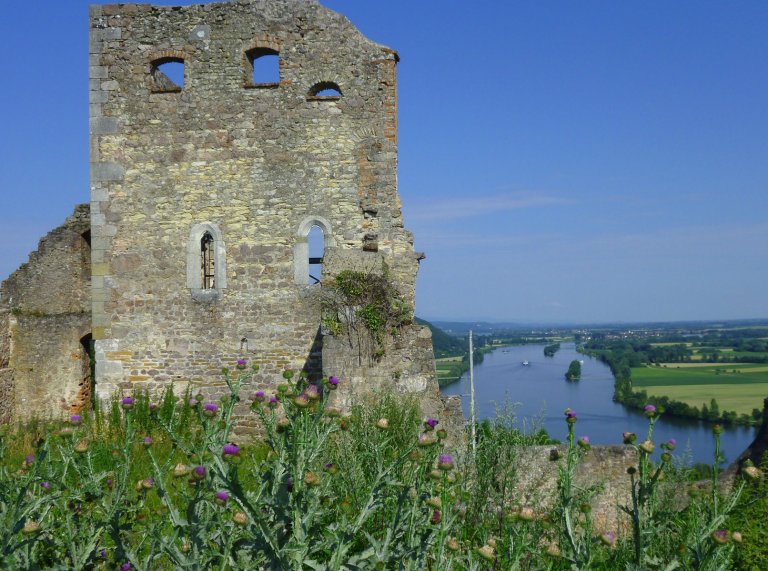 Bildnachweis: Markt Donaustauf
For the first time, the attachment was mentioned in the 10th century: Between 914 and 930 after Chr., Bishop Tuto of Regensburg built a castle for defense against Hungarian invasions. During the following centuries, this bishop castle was fiercely fought over between the duchy of Bavaria, the Bishopric of Regensburg and the free city of Regensburg.
The castle in Stauf was a typical section castle. A wall ring after another was placed around a core and each of the resulting portions was sealed off by a fixed gate construction. The first stone buildings (Palas, chapel, castle keep) were probably built around 1050th. But also most of the other building originated probably in the Romanesque period. Under Duke Maximilian, the castle was last extended in 1610.
Since the late 17th century, the formerly well-fortified construction has been forfeited increasingly. In the following years, there were constant disputes that had only ended when the Bishopric of Regensburg came to Bayern in 1810. On 18 March 1812, the state transferred the reign Donaustauf at the Princely House of Thurn and Taxis. Since 1989, the ruin has been owned by the market Donaustauf.
How to get there with the RVV
With bus number 5 to the stop "Donaustauf, Kriegerdenkmal", from there it is only a few meters walk to the castle ruins
The bus runs Monday - Saturday every 20 minutes, on Sundays and holidays every hour
Location