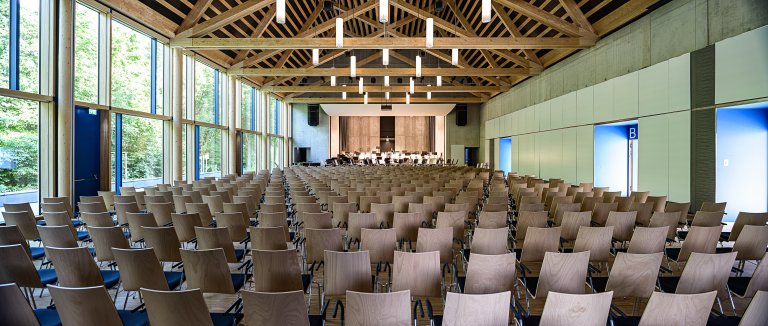 Bildnachweis: Jürgen Krall
Picture: Jürgen Krall
Events with RVV Event Ticket
The new Lappersdorf culture and meeting centre AURELIUM sees itself as an institution of the market Lappersdorf with a cultural and social mission.  With high-class events, the striking building as a citizen-oriented institution wants to enrich the local community life of the market town. Alle Facetten von Kunst und Kultur sollen hier abgebildet werden. All facets of art and culture are to be depicted here. The program includes concerts, guest performances, projects and offers that enable active participation in cultural education. The various rooms of the facility can also be rented for meetings, seminars and congresses.
As part of the RVV event ticket "Admission ticket is valid as a ticket", the tickets for the events at the AURELIUM in Lappersdorf will be valid as of 1 July 2018 as an RVV ticket.
Entrance tickets for this are valid on on the respective day of the event from 4 hours before event begins as RVV tickets for 1 person on all RVV means of transport (on local trains only 2nd class) in the entire RVV fare area for travelling to the event and for the return journey on the same day until close of operations.
The driving authorization is noted on the tickets.
Timetables of the RVV lines for download
Take the RVV line 13 or 15 to the "Lappersdorf, Kapelle" stop. From there it is about 250 meters walk to the Aurelium.
13 (11.12.2022)
Letzte Aktualisierung vor 54 Tagen.
Aktueller Plan gültig seit 60 Tagen.
15 (26.09.2022)
Letzte Aktualisierung vor 8 Tagen.
Aktueller Plan gültig seit 136 Tagen.