The eTariff pilot project "Swipe + Ride
With the eTariff you can travel more easily than ever before. With this electronic tariff, the fare is calculated on the basis of the distance between the boarding and exiting stops - and determined automatically using the check-in/check-out procedure via your smartphone.
With the eTariff, you can not only travel easily within the RVV and MVV network areas, but also between the two networks. It is important that your starting and destination stops are located in one of the two networks. It is not permitted to get on or off the train in the area around Landshut that is not part of the network.
The pilot is specifically designed as a learning project; during the project period, various factors influencing the eTariff, such as the price parameters, may change. Further improvements will then be developed from the results of the accompanying market research.
Have we sparked your interest?
Register as a test customer and try out how easy public transport travel can be with the new eTariff. In addition, with your participation you'll make an important contribution to the further implementation of the project.
You can participate in the pilot project "Swipe + Ride" if you...
are at least 18 years old
have a functioning smartphone
have an authorised electronic means of payment

From registration to the ride - everything is a breeze:
How much is a ride with the eTariff?
 
Within the RVV area
Between RVV and MVV areas
Base price per trip
0,99 €
2,70 €
Price per kilometer
0,23 €
0,29 €
max. per day
- 

27,00 €

(on workingdays from 9am, weekends/holidays from 12am; until 4am the following day)
Strong partners in the "Swipe + Ride" pilot project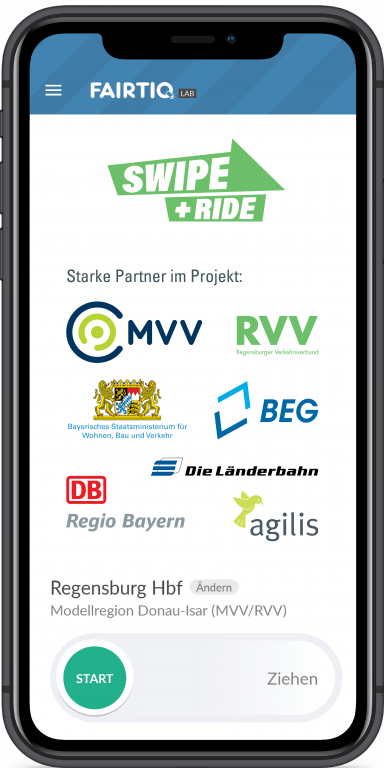 Partners of the RVV in the pilot project "SWIPE + RIDE" are the Free State of Bavaria, the Munich Verkehrsverbund (MVV), the Bayerische Eisenbahngesellschaft (BEG), Länderbahn, agilis and DB Regio Bayern.
The "SWIPE + RIDE" project for electronic tariff and distribution in the RVV is funded by the Free State of Bavaria.