The new bus routes of the RVV lines 6 and 11 in the overview
By clicking on the map you can view the lines in an enlarged view.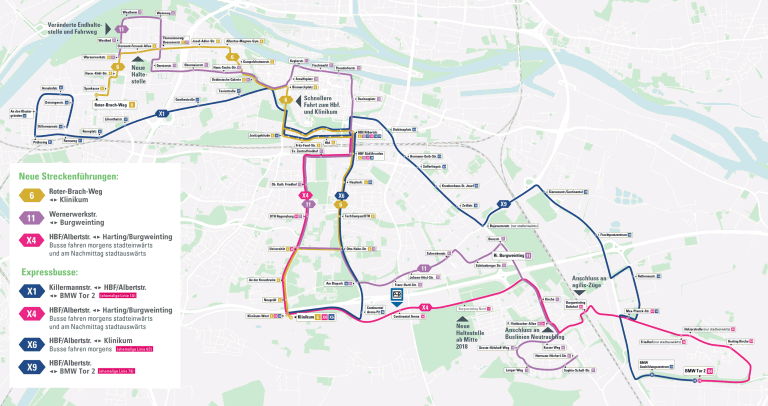 More flexible and more attractive offer in Regensburg West and South
Bus passengers from the western district of the city have the choice from 10 December 2017: Take line 6 for a short and fast route to major destinations in the city (every 10 minutes from Monday to Friday at rush hour) or take line 11, without changing, to the northern and eastern parts of the old city. 
Line 6:
new final stop: in the future, the line 6 will start/end at the stop "Roter-Brach-Weg" (NEW: 10-minute intervals Monday to Friday at rush hour) 
new track: via Clermont-Ferrand-Allee and in the old town via Bismarckplatz and Justizgebäude, the main station and destinations in the south of the city (eg Klinikum, Universität, TechCampus / OTH) can be reached faster 
additional stop: a new stop "Clermont-Ferrand-Allee" is being set up (to replace the stop "Weinmannstraße")
Connection to the Dörnberg area: via the stop "Justizgebäude"

Line 11:
new final stop: line 11 starts/ends in future at the stop "Wernerwerkstraße"
new line route: new over "Weinweg" into the old city
bessere Verbindungen innerhalb des Stadtwestens (z. B.: vom Weinweg umsteigefrei in den Hochweg)
Die RVV-App – Auskunft und Tickets
The RVV app knows all timetables by heart. She knows if your bus or train is on time and offers matching single, strip and day tickets for your mobile. More: www.rvv.de/app
Timetables for download
The timetables of lines 6 and 11 can be viewed and downloaded here (PDF):

Last update days ago.
Schedule active since 13days.
Last update days ago.
Schedule active since 281days.